Incidence of moral stress in care work
Investigación Colaborativa
Study "Incidence of moral stress in the care activity".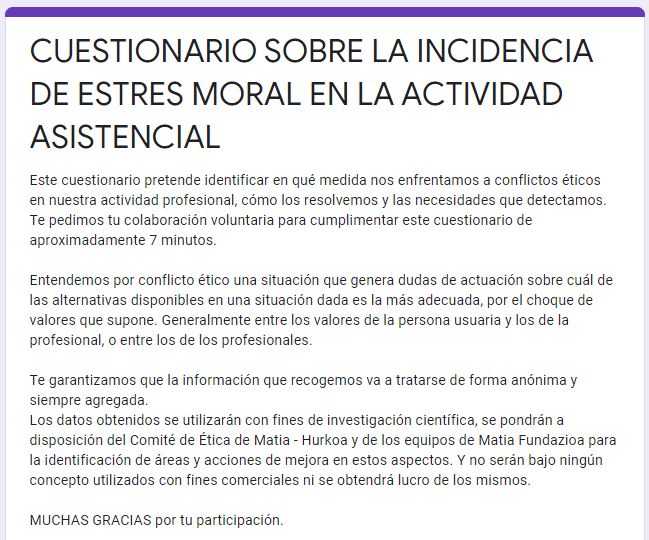 We share this questionnary (https://docs.google.com/forms/d/e/1FAIpQLSeD4YPAmtfLxGpaTJy9DZFwKHhwzGV-f5X7MBqa_qdYm4qQxw/viewform?usp=sf_link )
which aims to identify the extent to which we face ethical conflicts in our professional activity, how we resolve them and the needs we detect.

By ethical conflict we understand a situation that generates doubts about which of the available alternatives, in a specific situation, is the most appropriate, due to the clash of values that it involves. Generally between the values of the user and those of the professional, or between those of the professionals.

The data obtained will be used for scientific research purposes, and will be made available for the identification of areas and actions for improvement in these aspects.

It is guaranteed that the information we collect will be treated anonymously and always aggregated.
Thank you for your participation
Professionals
Associates
Matia Fundazioa
Line of Knowledge