The Active Aging Index: A tool for developing the active aging strategy in the Basque Country (Spain).
Author:
Del Barrio, E., Rofriguez, A., Mayoral, O., Sancho, M., Amilibia, L.
Imagen: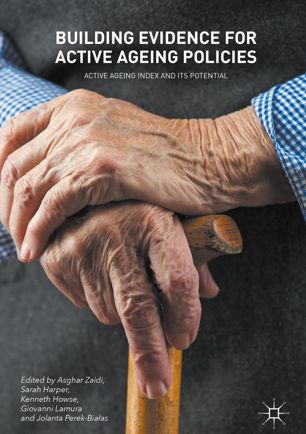 The Ageing Active Index (AAI) in the Basque Country was carried out in 2014 with two objectives: to detect those areas in which it was necessary to influence public policies and to compare the situation of the Basque Country with Europe and Spain. The score obtained by this region (36.6) is higher than the EU-28 average (34.05) and that of Spain (32.8). Based on the results of the fourth domain, it could be said that the Basque Country is becoming one of the best Spanish territories for active and healthy aging.
Thanks to the results emerging from this work coupled with a series of interviews with key informants, the 'BC Active Aging Strategy 2015-2020' has been designed. This chapter shows how the AAI has proved to be a very useful tool for the formulation of public policies.
Here you can purchase the full text chapter..
Professionals
Other Professionals
Angel Rodriguez-Laso
Olga Mayoral
Lide Amilibia