Determination of cross-contamination and validation of a cleaning procedure for an automated customized dosing system
Author:
Alexander Ferro Uriguen , Idoia Beobide Telleria , Silvia Martínez Arrechea ,1 Blanca Miró Isasi, Carmen Sampedro Yangüela, Mikel Urretavizcaya Anton
Imagen: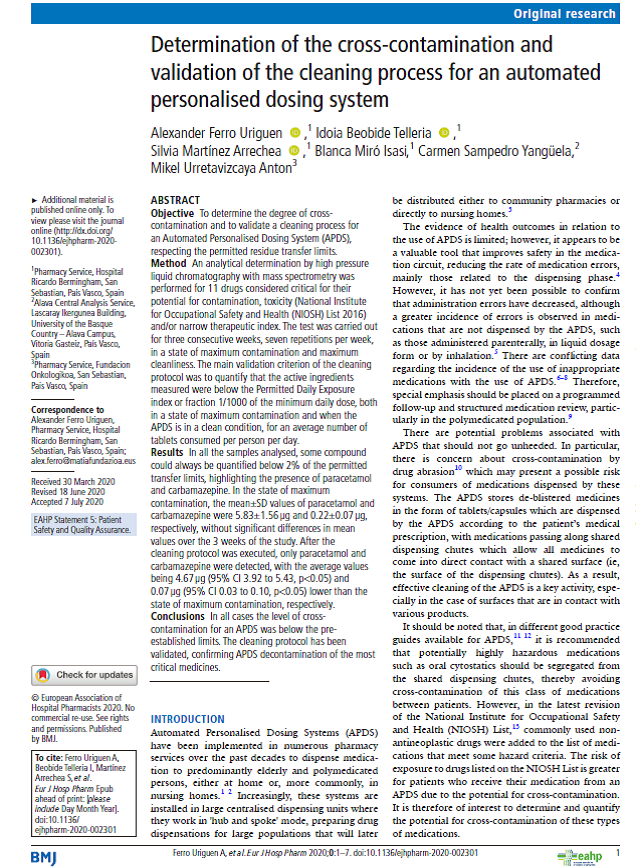 Revista:
European Journal of Hospital Pharmacy (EJHP) - European Association of Hospital Pharmacists (EAHP).
The Automated Personalized Dosing Systems (ADPS) store blistered medicines (out of their original packaging) in tablet and/or capsule form, to be later dispensed according to the patients' medical prescription, traveling through common channels of the system, being able to come into direct contact with a common surface. In this way, there is concern about cross-contamination by drug abrasion, presenting a possible risk for consumers of drugs dispensed by these systems.
This study has allowed to determine the level of cross contamination in a SADP under conditions of maximum contamination, confirming in all cases to be well below the limits established by Good Manufacturing Practice (GMPs). Likewise, the cleaning protocol has been validated confirming the effective decontamination of the SADP of the most critical drugs dispensed by this system. In both cases, the drugs studied have been high rotation drugs, hazardous drugs from the NIOSH list (group 2 and 3) and drugs with a narrow therapeutic margin.