Impact of the Covid-19 crisis on daily life
Author:
Molina, M. A., Marsillas, S., Del Barrio, E.
Imagen: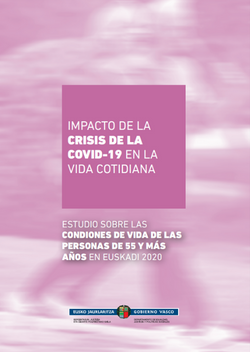 The general objective of the Basque Government's living conditions survey (LCS+55 2020) is to provide planners and those responsible for social policies with detailed and timely information on the family, individual and environmental living conditions in which the population aged 55 and over in the Basque Country lives. The survey also aims to gather information, systematise and disseminate the reality of the elderly in this territory, addressing a wide range of aspects that concern this population group.
The study carried out during 2020 is the third edition of this survey, which not only allows us to know the reality of these people, but also to analyse the trends and needs for the future. The generation of this knowledge will help both the evaluation and the design of past and future public policies on ageing in the Basque Country.
The results of this study are a series of thematic reports which analyse in detail the current situation and the evolution of people aged 55 and over in the Basque Country in areas ranging from the social fabric, health, care and participation.
The aim of this specific report is to analyse the impact of the Covid-19 crisis on the daily lives of people aged 55 and over living in the Basque Country, in areas such as health, the social fabric, participation, satisfaction and feelings of loneliness, and specifically:
To provide a snapshot of the perception of the impact of covid on the daily lives of older people (impact on health, ways of living together, contacts, activities, frequency of leaving home, care received and provided, feelings of satisfaction and loneliness).
To identify the profiles of older people with the greatest impact of the COVID-19 crisis on their daily lives.
Professionals
Other Professionals