Prevalence of type 2 diabetes mellitus and its pharmacological treatment in institutionalized persons in residential centers.
Author:
Beobide-Telleria, I., Martínez-Arrechea, S., Ferro-Uriguen, A., Alaba-Trueba, J.
Imagen: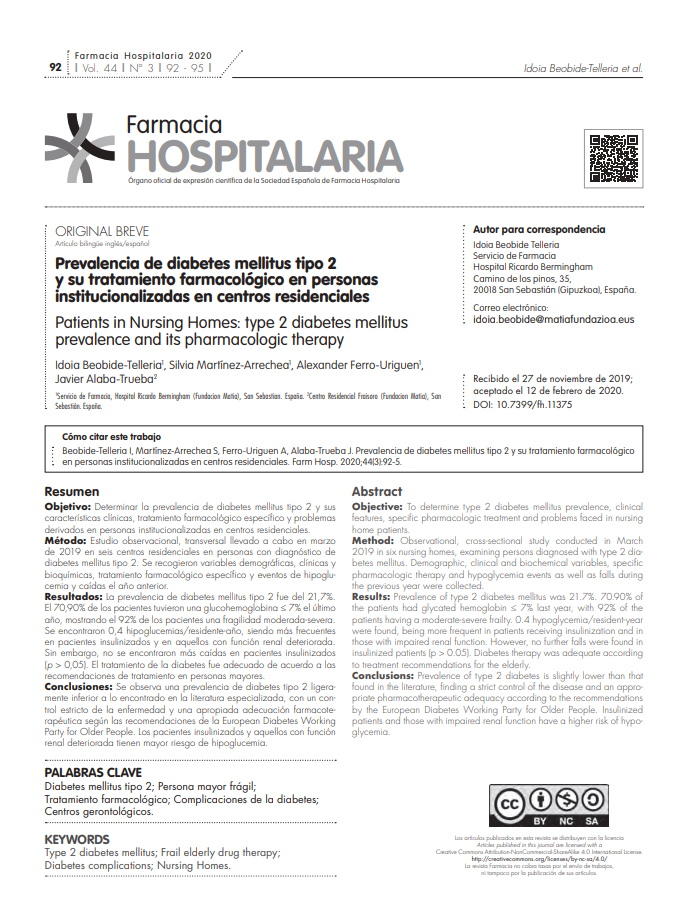 Revista:
Farmacia Hospitalaria, 2020 44(3):92-5.
Observational, cross-sectional study conducted in March 2019 in six residential centers in people diagnosed with type 2 diabetes mellitus. Demographic, clinical and biochemical variables, specific pharmacological treatment and events of hypoglycemia and falls in the previous year were collected.
The findings of this study indicate that in the residences studied, treatment is qualitatively adequate according to the guidelines, although with strict control in this vulnerable population. The latter is important to take into account in order to avoid problems such as hypoglycemia, which is an adverse effect that can be very problematic in these people. These hypoglycemias are in turn more frequent in insulinized patients and in those with renal insufficiency.