Results of the survey on expectations and preferences in caregiving
Author:
Del Barrio, E., Sancho, M.
Imagen: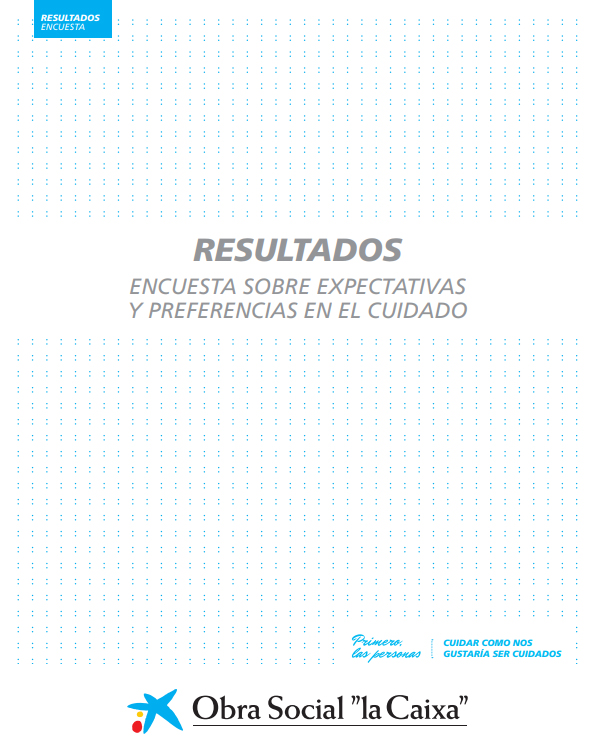 This quantitative study was carried out within the framework of the project "Caring as we would like to be cared for", a participatory action-research process promoted by Obra Social "La Caixa", with the aim of gathering perceptions, wishes, preferences, and fears of a potential need to give or receive care. The study was carried out through online questionnaires that collected the opinions of 4,785 people.
When talking about the responsibility for care, the results show a complex reality, in which the agents responsible for care are interwoven in the form of a care network, and where competencies and functions are shared through co-responsibility.
In the preferences regarding the care received or to be received, the leading role of the family stands out as the main desired agent in the provision of the different types of care, although formal care also has a strong presence, through services in personal care and household chores.
As for preferences about where people would like to live in the event of needing help, the survey results highlight the home where they currently live and residences for the elderly. However, sharing a home with people from the circle of friends seems to be a possibility that is positively valued by the new generations.
Currently, one out of every four people surveyed cares for an elderly person. The vast majority of people who care for a relative do so in almost all types of caregiving tasks. This group of caregivers in the sample was asked about the problems and benefits of caregiving. The greatest benefits are found in the emotional aspect, and the problems in the area of free time.