Being an active citizen and the elderly: Old concepts, new approaches. A systematic review and qualitative meta-synthesis
Author:
Barrio, E. del, Pinzón, S., Sancho M. y Garrido F.
Imagen: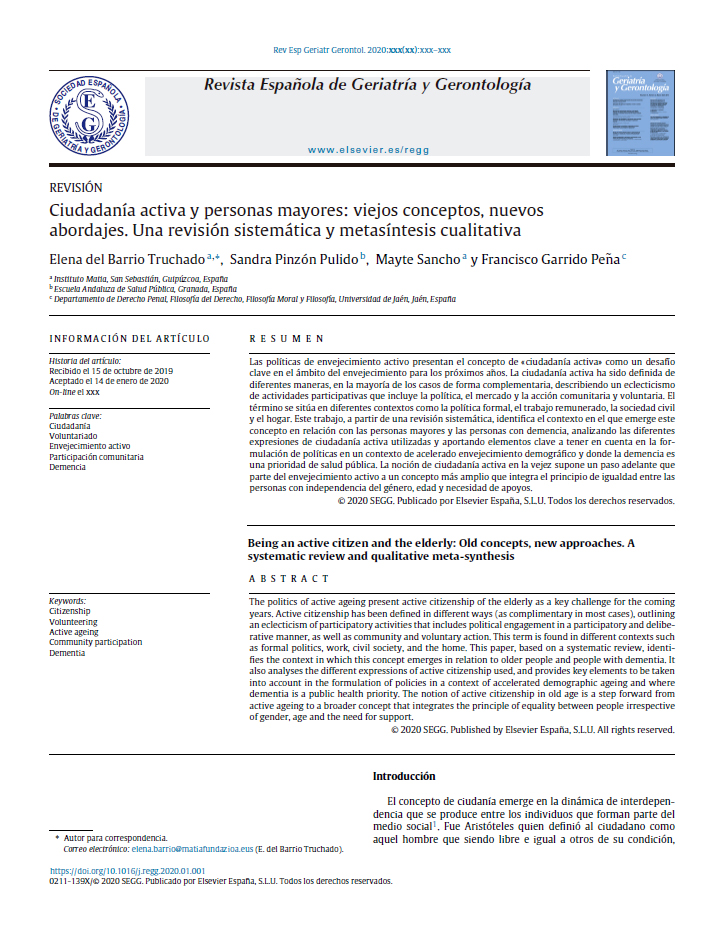 Revista:
Revista Española de Geriatría y Gerontología. Article in Press.
The politics of active ageing present active citizenship of the elderly as a key challenge for the coming years. Active citizenship has been defined in different ways (as complimentary in most cases), outlining an eclecticism of participatory activities that includes political engagement in a participatory and deliberative manner, as well as community and voluntary action. This term is found in different contexts such as formal politics, work, civil society, and the home.
This paper, based on a systematic review, identifies the context in which this concept emerges in relation to older people and people with dementia. It also analyses the different expressions of active citizenship used, and provides key elements to be taken into account in the formulation of policies in a context of accelerated demographic ageing and where dementia is a public health priority. The notion of active citizenship in old age is a step forward from active ageing to a broader concept that integrates the principle of equality between people irrespective of gender, age and the need for support.
Professionals
Other Professionals