Madrid, a friendly city for the elderly. Action Plan 2017-2019
Author:
Del Barrio, E., Sancho, M., Ayuntamiento de Madrid
Imagen: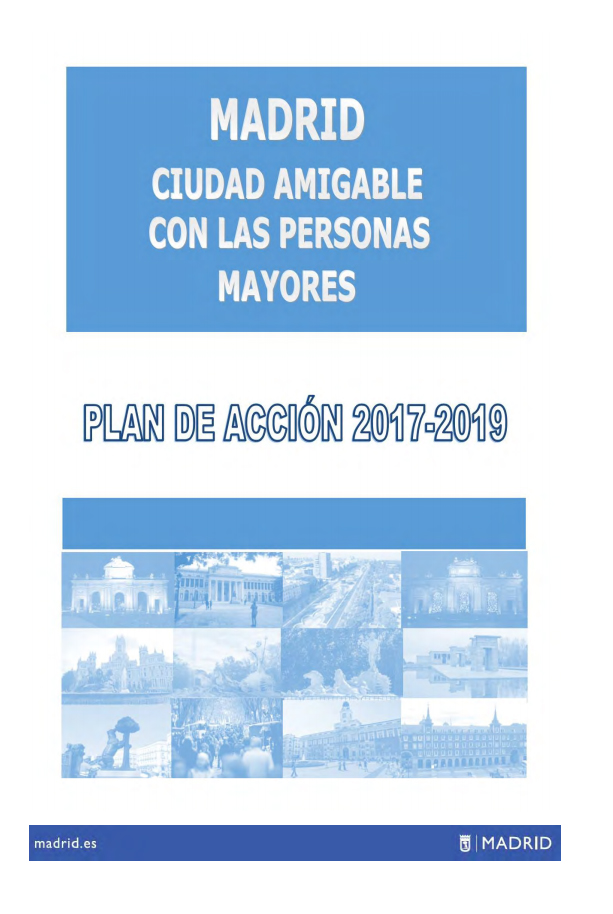 The Age-Friendly Cities Project is based on the premise that an age-friendly city is one that enables its citizens to age actively. Therefore, a friendly city is one that projects its structures and services so that all people, regardless of their age, abilities and capacities, enjoy good health and live in safety by actively participating in all areas of social life.
This Action Plan, which has been prepared with the technical assistance of the Matia Institute Foundation, aims to make Madrid a friendlier city, that is, to achieve an inclusive and accessible urban environment that promotes active aging and enriches the quality of life of its citizens. To this end, and taking as a framework the Diagnostic report "Madrid, an Age-Friendly City", a total of 73 actions and 149 actions are collected, which address three main axes:
Reformulating the governance model in an aging city.
Promote the autonomy and independence of aging persons by fostering healthy and friendly environments.
To advance in guaranteeing the participation and social collaboration of aging people as agents of change and protagonists in the construction of a welfare society.
The WHO Global Network of Age-Friendly Cities currently includes 400 cities and communities in 37 countries, covering more than 400 million people. Spain is the country with the most Age-Friendly Cities, a third of which are in the Basque Country and form part of the Euskadi Lagunkoia-Amigable.
Professionals
Other Professionals