Effects of Multicomponent Exercise on Frailty in Long‐Term Nursing Homes: A Randomized Controlled Trial
Author:
Arrieta, H., Rezola-Pardo, C., Gil, S.M., Virgala, J., Antón, I., González-Templado, V., Irazusta, J., Rodriguez-Larrad, A.
Imagen: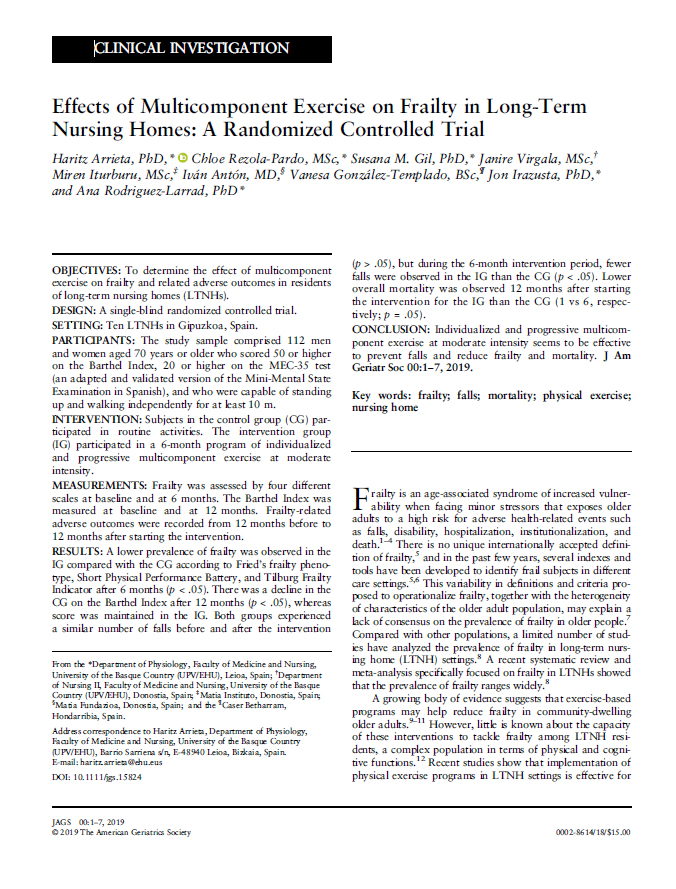 Study seeking to determine the effect of multicomponent exercise on frailty and related adverse outcomes in gerontological center residents.
The study sample comprised 112 men and women aged 70 years or older who scored 50 or more on the Barthel Index, 20 or more on the MEC - 35 test (an adapted and validated version of the Mini-Mental State Examination in Spanish), and who were able to stand and walk independently for at least 10 meters.
Frailty was assessed using four different scales at baseline and at 6 months. The Barthel index was measured at baseline and at 12 months. Frailty-related adverse outcomes were recorded from 12 months before, to 12 months after starting the intervention.
d. The results indicate that individualized, progressive, moderate-intensity multicomponent exercise appears to be effective in preventing falls and reducing frailty and mortality.
This work has been supported by grants from the Basque Government (ELKARTEK15/39, ELKARTEK16/57, RIS16/07, SAN17/11) and the Agreement between the UPV/EHU and the Provincial Council of Gipuzkoa (Gipuzkoa Eraikiz). Haritz Arrieta and Chloe Rezola-Pardo have been supported by two grants from the University of the Basque Country (UPV/EHU).
Professionals
Other Professionals
Arrieta
H.
Rezola-Pardo
C.
Gil
S.M.
Virgala
J.
Antón
I.
González-Templado
V.
Irazusta
Rodríguez-Larrad