Improving the well-being of people with dementia through our everyday interactions
Author:
Martínez, T., Villar, F.
Imagen: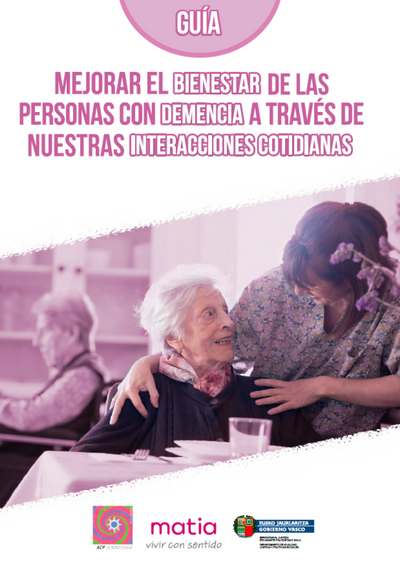 Caring always takes place in a context of interpersonal communication. Even when we perform caregiving tasks without speaking, we are communicating. The absence of words, the silences, our gestures, the rhythms of our actions, convey information. Always. Not communicating is not possible.
Our communication is one of the most important tools in the care of people with cognitive impairment or who have developed dementia. Because our communication will modulate, to a large extent, the emotional state of the person. It can facilitate their well-being and also contribute to reducing their discomfort. Nor should we lose sight of the fact that some interactions can also intensify negative emotional states.
Communicating with a person with dementia and understanding some of their behaviour is sometimes not easy. This is why we have produced this guide to help those who accompany and care for people with dementia to communicate better with them.
In this guide we present in a very summarised form some ideas and techniques that can help us both to understand the needs that people with dementia express and to improve the way we communicate with them.
Awareness of some of the beliefs we may have about people with dementia and their behaviours is the necessary starting point for the techniques we then present to be of real help. Because the techniques are merely tools and, in order to be valuable, they must come from an outlook, from attitudes that support them.
Project
Related blog posts