Preferences Involving Risks Pathway
Author:
Martínez T., Cerdó i Pasqual, M.F., Diaz-Veiga, P.
Imagen: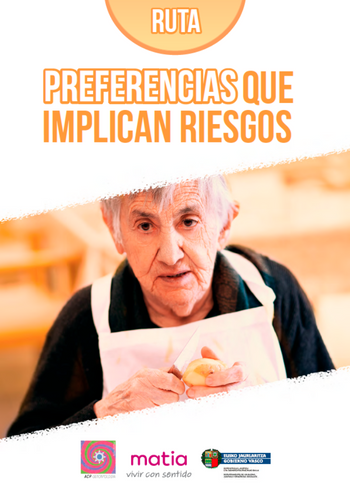 Revista:
PCC Routes Collection
The pathways are a set of considerations, actions and elements, endorsed by existing knowledge and validated by applied experience, on key contents of this approach to make it effective in the centres and services.
They aim to facilitate progress itineraries in a flexible way. Their purpose is to guide the centres, services and teams on the path towards person-centred care, respecting their own strategy and supporting the various trajectories to have the necessary globality and clear orientation that should characterise progress in this approach to care.
Why a Preferences Involving Risks pathway?
When caring for people, it is not uncommon to encounter preferences or decisions of individuals where supporting their self-determination conflicts with other values that we must also protect, such as health or safety.
These situations generate a great deal of uncertainty in care teams and there is not always agreement on how to proceed. It is therefore necessary to carry out a deliberative process where thoughtful alternatives can be agreed upon, with people's protection and well-being in mind, accompanied by a documented personalised plan that minimises existing risks.
This pathway identifies three important issues to support decisions in relation to risk-involving preferences:
Striking a balance between safety, self-determination and well-being.
Planning and developing shared decision-making processes.
Moving towards a culture of Yes, under a vision of quality care where the person's freedom and right to take certain risks is possible.
Professionals
Other Professionals
Matia Team of Professionals
Project