Serum adiponectin is associated with body composition and cognitive and psychological status in older adults living in long-term nursing homes
Author:
Sanz, B., Arrieta, H., Hervás, G., Rezola-Pardo, C., Ruiz-Litago, F., Iturburu, Miren, Gil, S.M., Rodríguez-Larrad, A., Irazusta, J.
Imagen: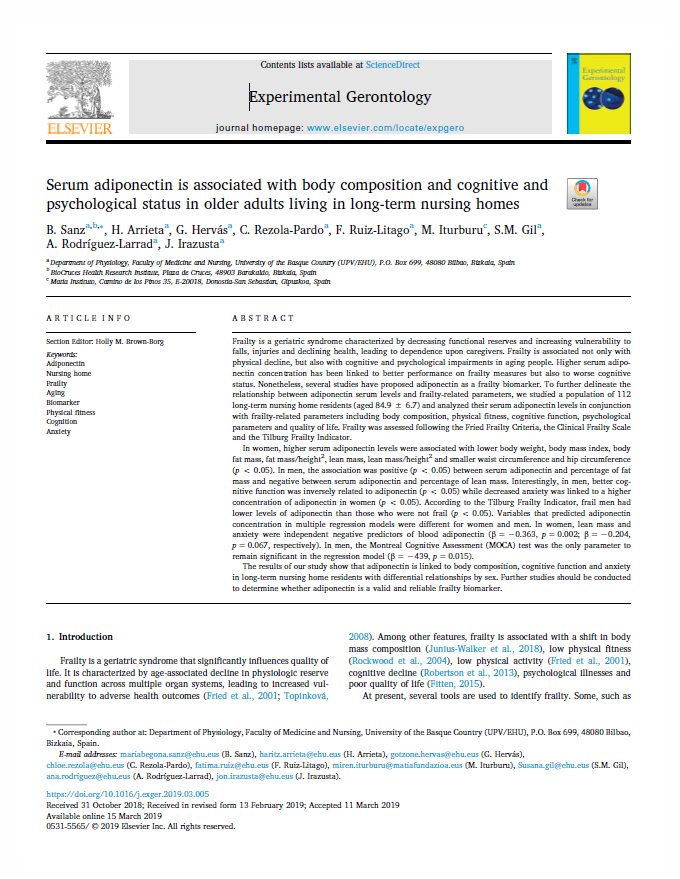 Frailty is a geriatric syndrome characterized by decreased functional reserves and increased vulnerability to falls, injury and deteriorating health, leading to dependence. Frailty is associated not only with physical deterioration, but also with cognitive and psychological disabilities related to aging. Higher serum adiponectin concentration has been related to better performance on frailty measures, but also to worse cognitive status. Seeking to corroborate the relationship between serum adiponectin levels and a number of frailty-related parameters (body composition, physical condition, cognitive function, certain psychological parameters and quality of life), we have analyzed this aspect in 112 residents of a dozen nursing homes.
The results of our study show that adiponectin is related to body composition, cognitive function and anxiety in residents of gerontological centers with differential relationships by sex. Further studies should be performed to determine whether adiponectin is a valid and reliable frailty biomarker.
This work has been supported by grants from the Basque Government (ELKARTEK15/39, ELKARTEK16/57, RIS16/07, SAN17/11). Haritz Arrieta and Chloe Rezola-Pardo have been supported by two grants from the University of the Basque Country (UPV/EHU).
Professionals
Other Professionals
Sanz
B.
Arrieta
H.
Hervás
G.
Rezola-Pardo
C.
Ruiz-Litago
F.
Gil
S.M.
Rodríguez-Larrad
A.
Irazusta
J.