Effects of viewing personalized content through virtual reality on the well-being and engagement of people with advanced dementia. A qualitative study of 4 cases
Author:
Buiza, C., Vidán A., García-Soler, A., Diaz-Veiga, Pura
Imagen: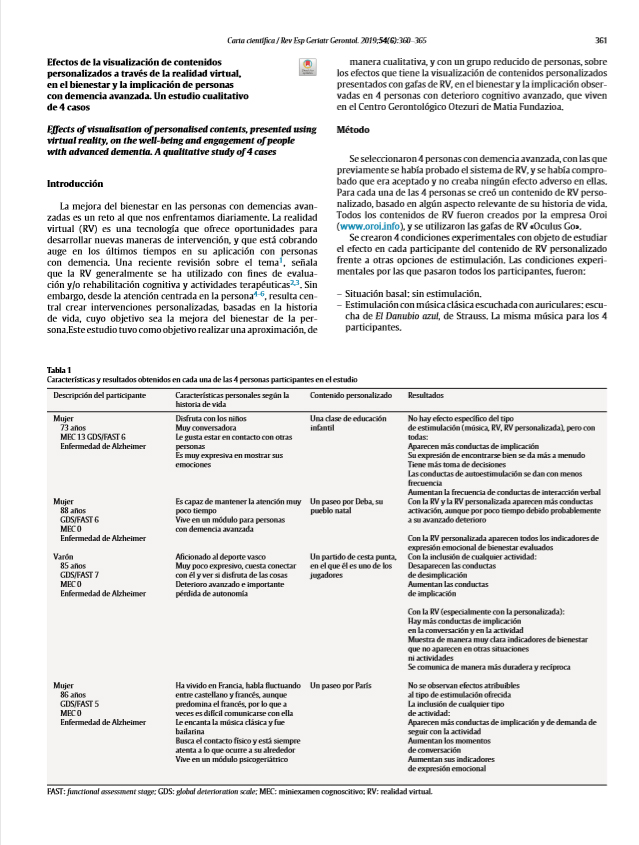 Revista:
Revista Española de Geriatría y Gerontología Volume 54, Issue 6, November–December 2019, Pages 361-362
Improving well-being in people with advanced dementia is a challenge we face daily. Virtual reality (VR) is a technology that offers opportunities to develop new ways of intervention, and is gaining momentum in recent times in its application with people with dementia.
This study aimed to make an approach, qualitatively, and with a small group of people, on the effects of viewing personalized content presented with VR glasses, on the well-being and involvement observed in four people with advanced cognitive impairment, living in the Otezuri Gerontological Center of Matia Fundazioa.
Four experimental conditions were created in order to study the effect on each participant of personalized VR content versus other stimulation options.
As a result of this intervention, an increase in the involvement of the participants (orienting their attention, responding to the stimuli or conversing about them) was observed regardless of the activity to which they were exposed. Half of the sample, moreover, showed indicators of well-being (facial and verbal expression of well-being, satisfaction, joy, and acceptance or seeking physical contact) in the personalized VR situation. None of the participants showed adverse effects from the use of this technique.