Housing for active ageing: lessons and results of the Danish paradigm and its application to the Spanish context Lugaritz Housing for life in Donostia - San Sebastián
Author:
García-Lantarón, H., Sancho Castiello, M. y Azurmendi Ormazabal, M.
Imagen: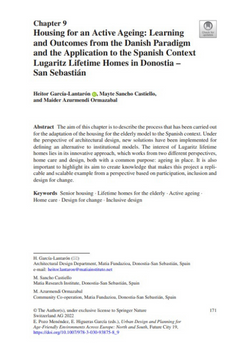 Revista:
Pozo Menéndez, E., Higueras García, E. (eds). Urban Design and Planning for Age-Friendly Environments Across Europe: North and South. Future City, vol 19. Springer, Cham. https://doi.org/10.1007/978-3-030-93875-8_9
The aim of this chapter is to describe the process that has been carried out for the adaptation of the housing model for the elderly to the Spanish context. From an architectural design perspective, new solutions have been implemented to define an alternative to institutional models. The interest of the Lugaritz lifelong homes lies in their innovative approach, which works from two different perspectives, care and home design, both with a common goal: to grow old in place.
It is also important to highlight its objective of generating knowledge that makes this project a replicable and scalable example from a perspective based on participation, inclusion and design for change.